The Only One English Course
of The Traditional "Tsumami zaiku" Methods
"Tsumami zaiku" is the Japanese traditional craftwork used in the Kanzashi of maiko (geisha aspirants).
"Tsumami" means "to pinch". It is made by pinching and folding cloth with tweezers like an origami paper.
It is the only Japanese traditional craft anyone can enjoy as a hobby.
Welcome to the world of beautiful "Tsumami"!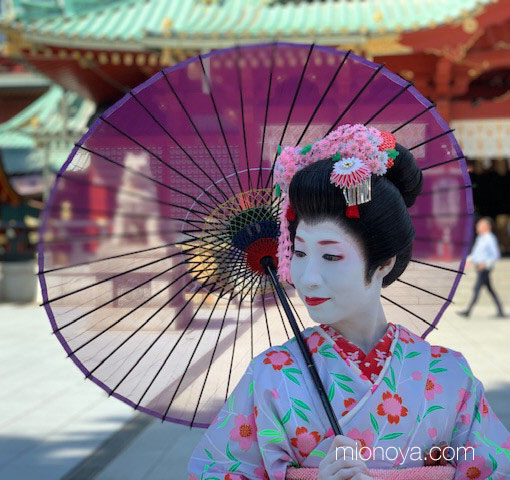 ITA 2nd Anniversary!
ITA Special Event 2023
in Asakusabashi Tokyo
OCT.7th (Sat) - 9th(Mon), 2023

Three days to experience the craftsmen's skills and Japanese culture!

Face To Face Workshop
in Asakusabashi, TOKYO!!

You have a plan to visit TOKYO!?
If you are expecting to take our course face-to-face in Japan, this is what you want!
The English-speaking instructor will teach you the skills hands-on.
The Basic(3days)/Middle/Advanced course includes lesson video of the each course!
(You can review everything you have learned and go to the next step)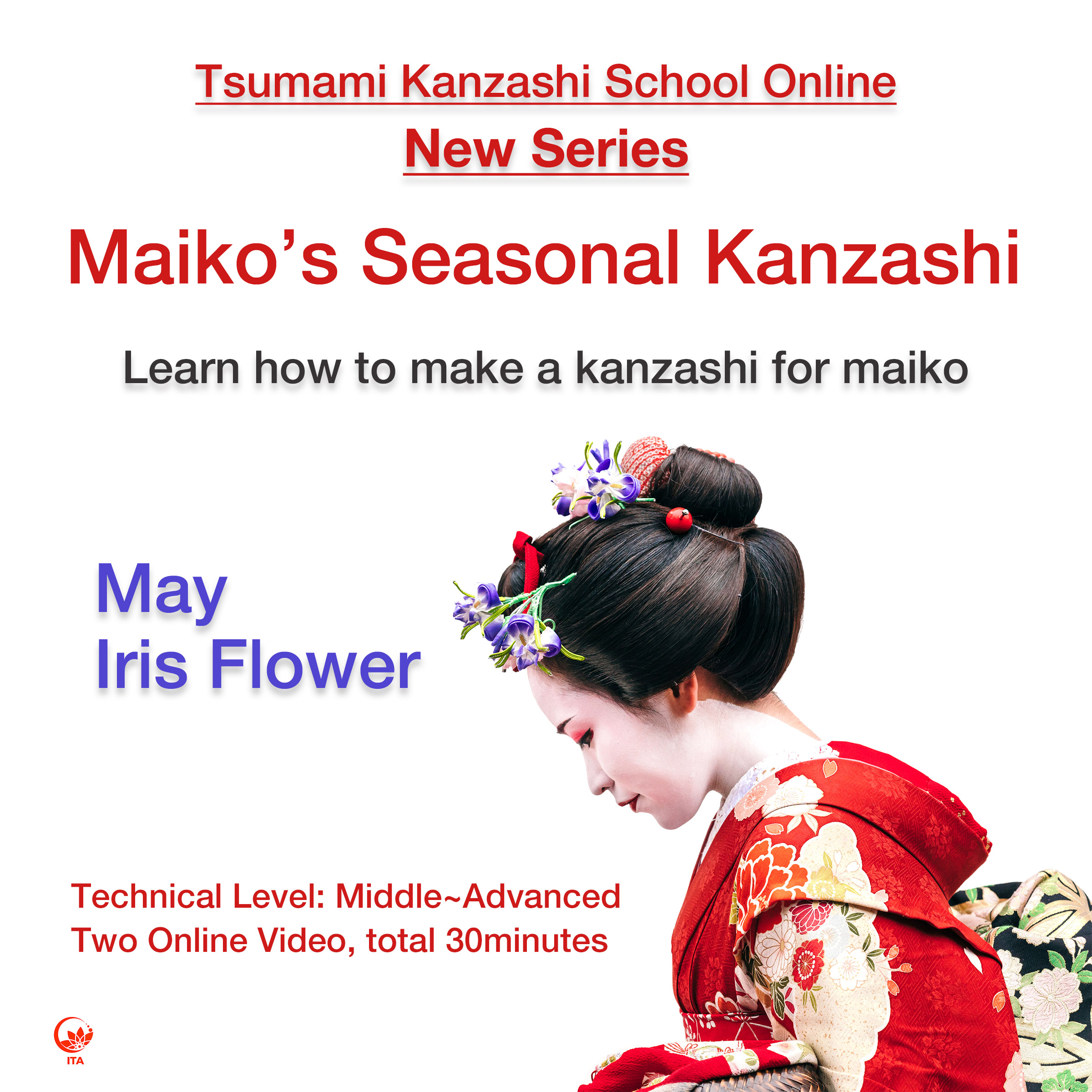 Maiko wears a kanzashi in their hair that represents the flowers of the season for each month of the year.

In this series, we will make one maiko seasonal flower ornament per month. Using craftsmen's techniques, we will make more beautiful and gorgeous kanzashi.
May: Iris Kanzashi
June: Hydrangea
June: Willow and Nadeshiko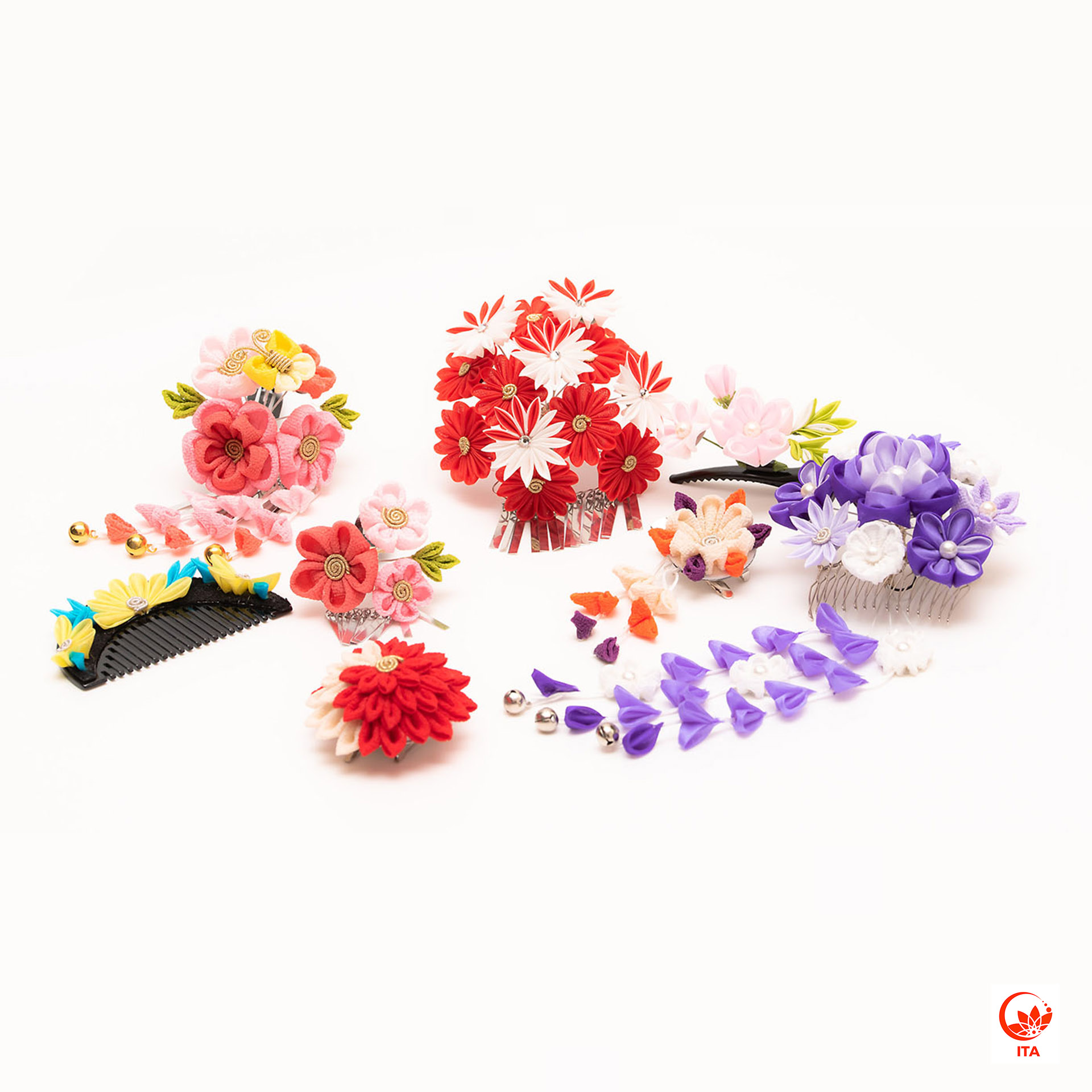 Passing On The Secret Techniques

You can learn the traditional techniques that the craftsmen have verbally handed down to make "Tsumami zaiku" look beautiful with our 83 tutorial videos.
How to use the tools correctly
How to handle delicate traditional cloths, chirimen and habutae
How to fold the petals to make them look beautiful
Techniques to make it look three-dimensional
How to assemble and adjust a Kanzashi, etc.
How to make butterflies, leaves, sagari, etc.
Our Online "Tsumami zaiku" Courses
~No Limit Access Tutorial Videos ~

The ultimate guide to learn the secret techniques by craftsmen that you will never get from free videos!!

Each course has comprehensive content that would take a week to acquire face-to-face in Japan. 

Selection Guide
3).
To become a Certified Teacher
:
3 Courses bundle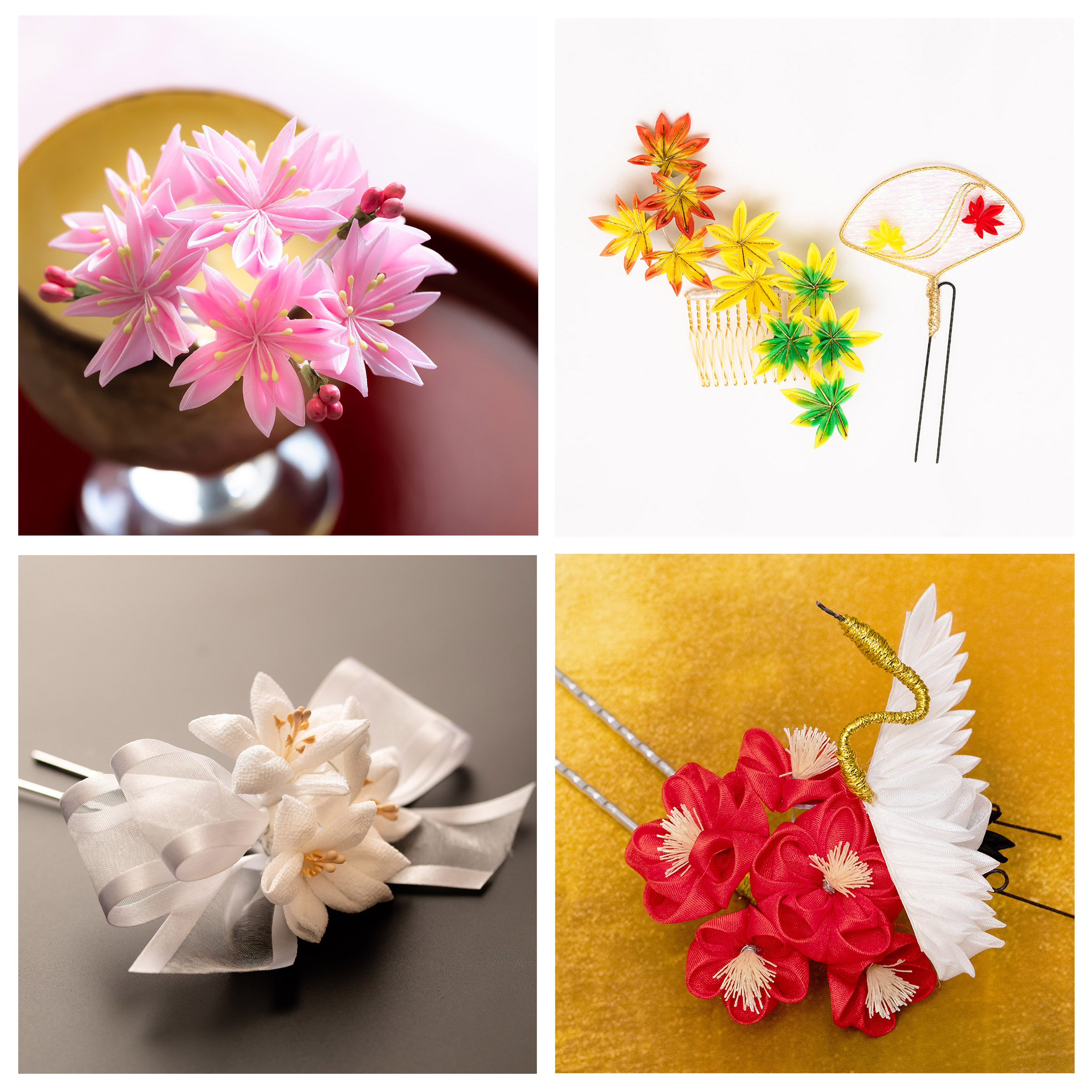 Special Lesson


L
earn more advanced techniques !
This course introduces more complex techniques and new ways of making them to those who have mastered the basics all the way through. Since these techniques are heavily used by craftsmen, you will be able to use them when making actual kanzashi.
Oneshot Lesson
Let's Give It A Shot!
~Tutorial Videos for people who want to make tsumami zaiku for fun!~

Expand your repertoire of flowers and techniques!
One of each month, we introduce a tsumami zaiku that incorporates flowers, butterflies, and Japanese customs. This course is ideal for those who want to expand their repertoire.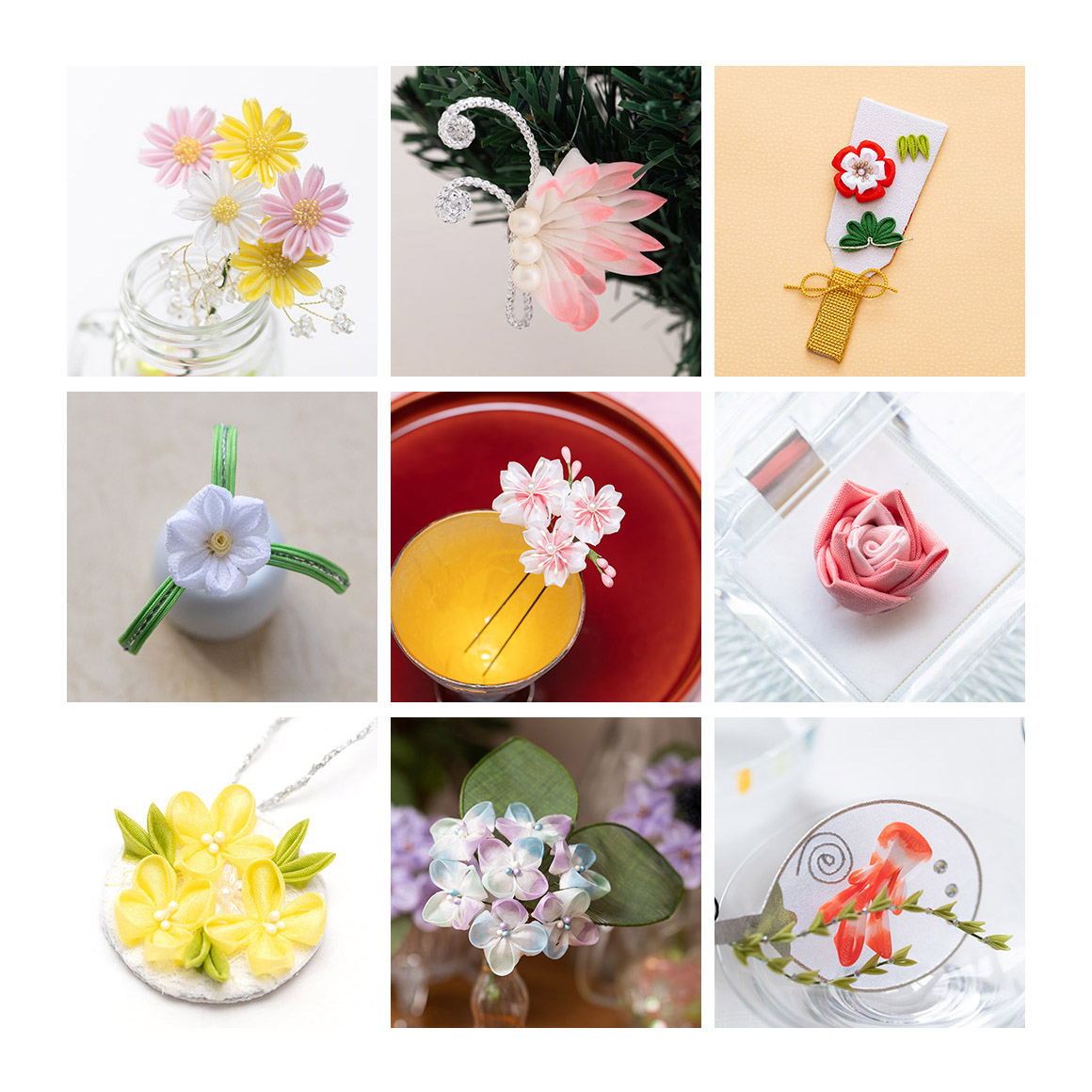 To ensure that emails from our school are delivered correctly,
Please check the below button on the sign-up screen.
" I agree to receive instructional and promotional e-mails(optional)"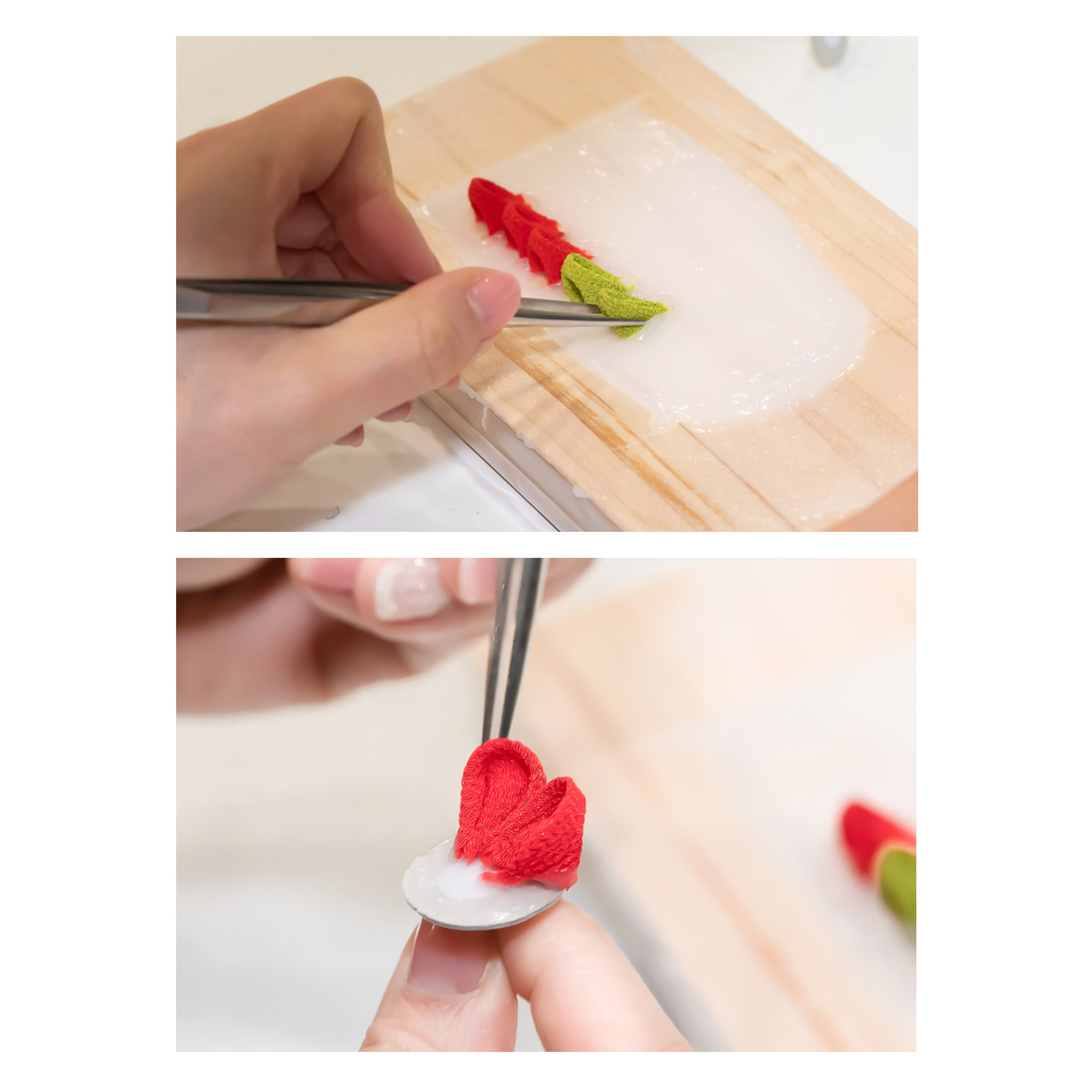 1. The Traditional Methods
~Starch Glue Method~
Based on the method of Kinuyo Tomura,
the Master Craftsman who is engaged in it
for more than 60 years.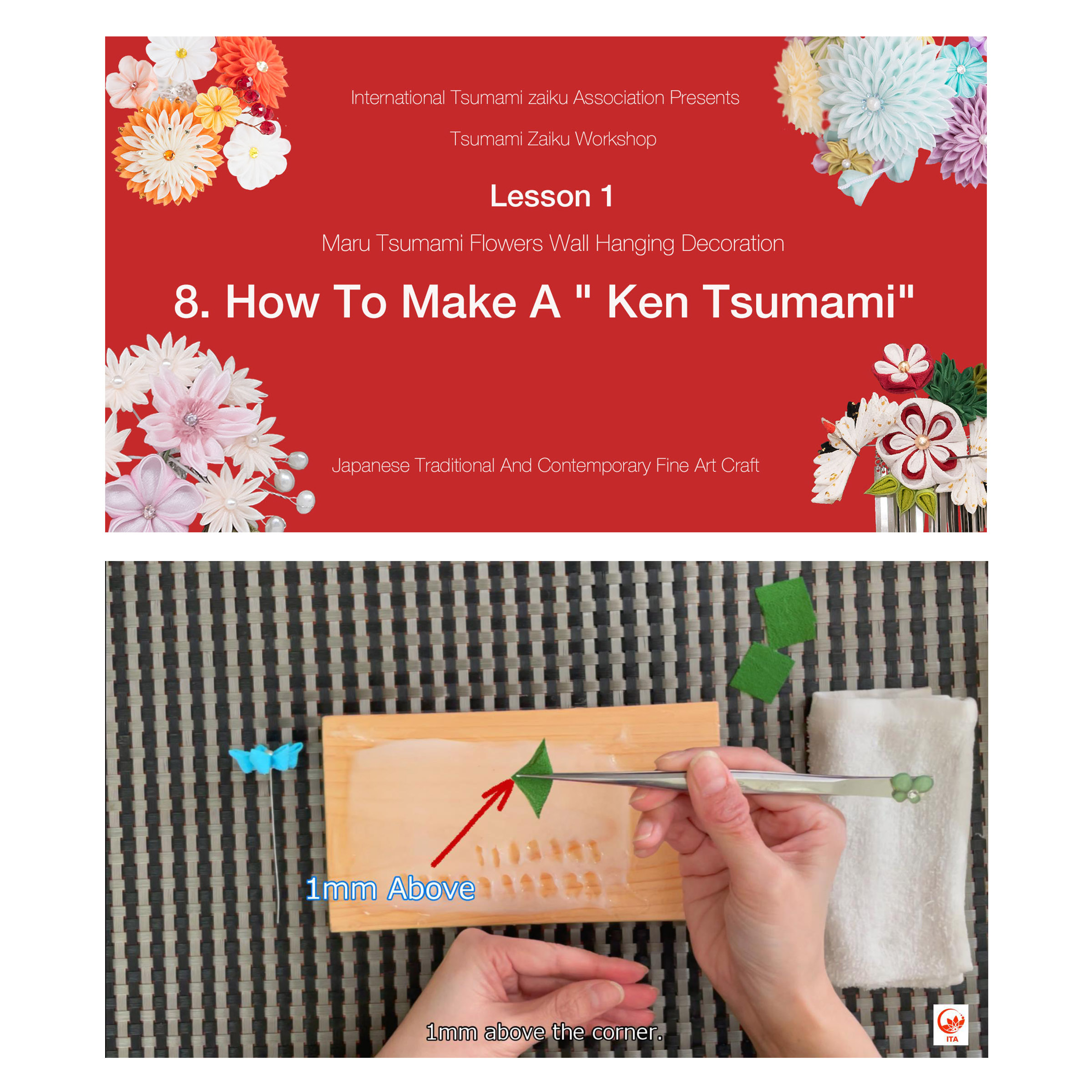 2. The Only One Online Course In English
(83 video tutorials will support you)
From beginners to experts, course for all level students!
The videos are finely divide,easy to find the point you want. Use it as an online dictionary of tsumami zaiku!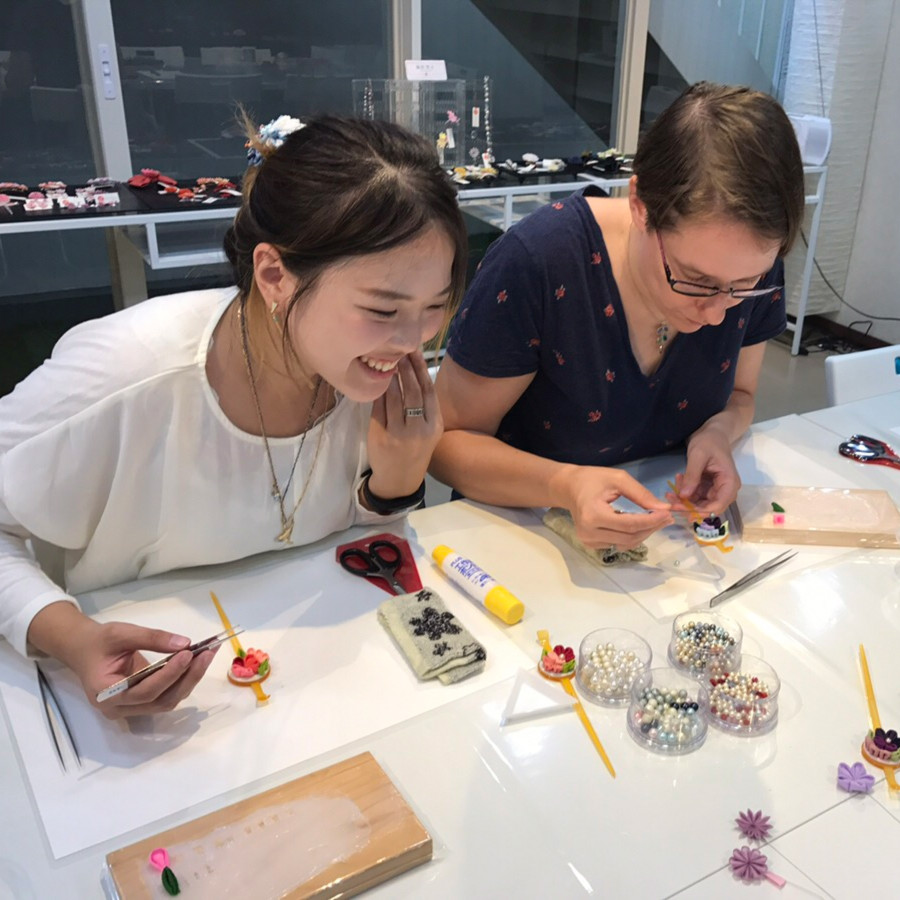 3. Life Time Access
~By Your Own Pace~
Learn and improve your skills with our turtorial videos as long as you like.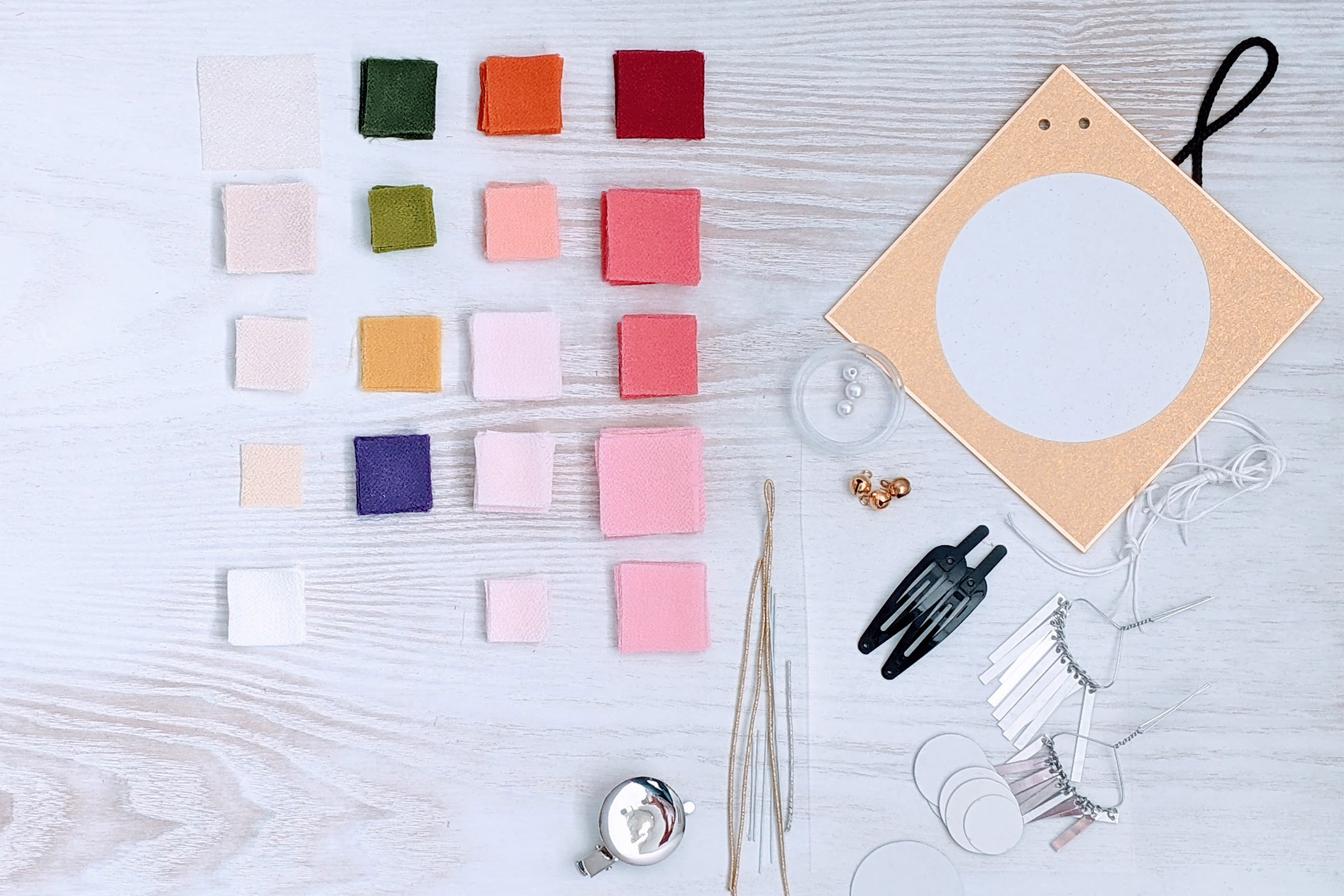 4. Materials Included
In The Courses
Materials for each main lesson(Basic,Middle,Advanced course only) will be delivered in a set!
Same materials used by Japanese craftsmen.
Will be shipped by EMS.
*Due to worldwide logistical disruption because of Covid and the war, arrival is significantly delayed or stopped in some countries.
Fabric color in the materials maybe different from tutorial videos due to variation between lots.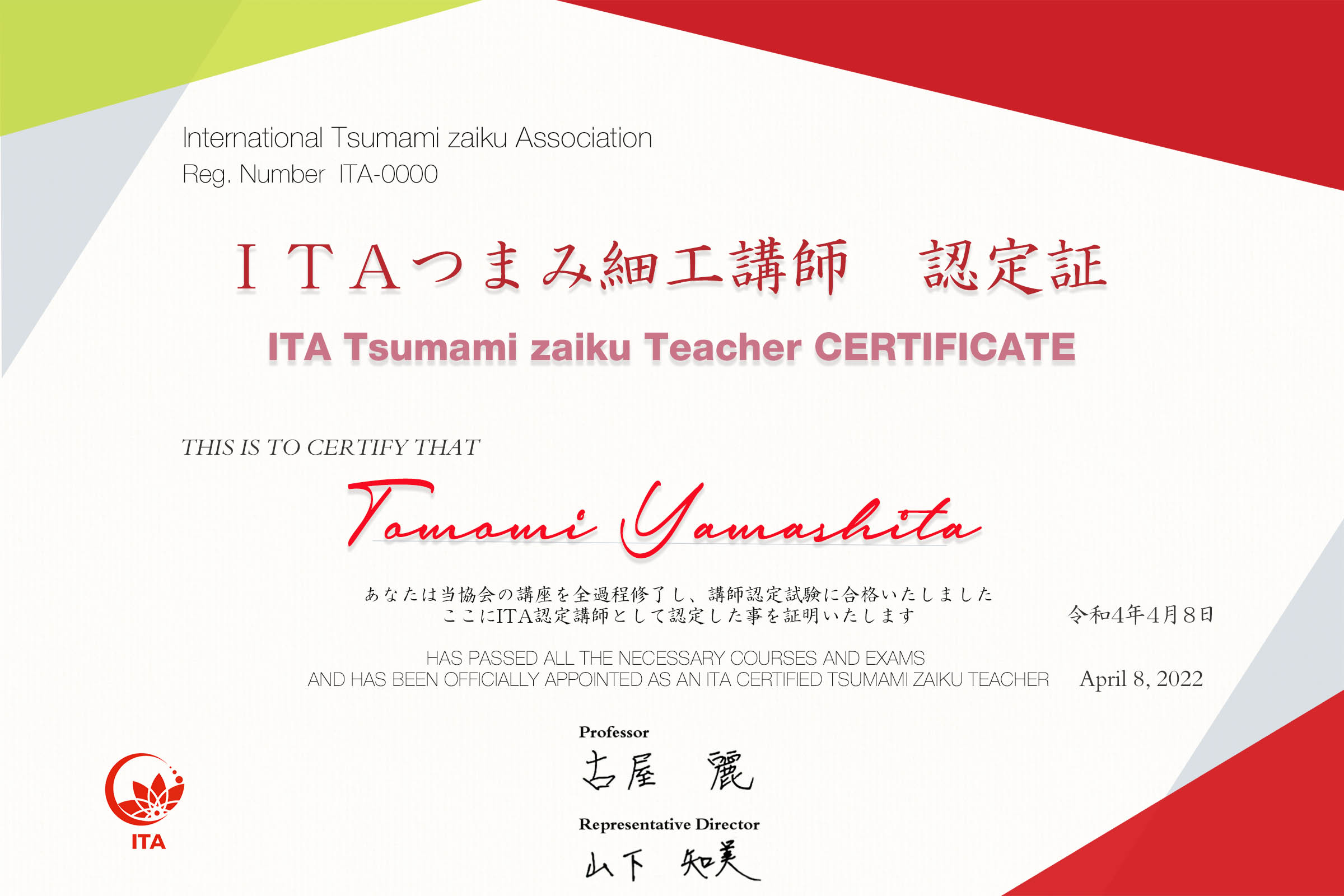 5. The Path To Be
A "Certified Teacher"
Students who complete the entire course can take the Certified Teacher Certification Exam online.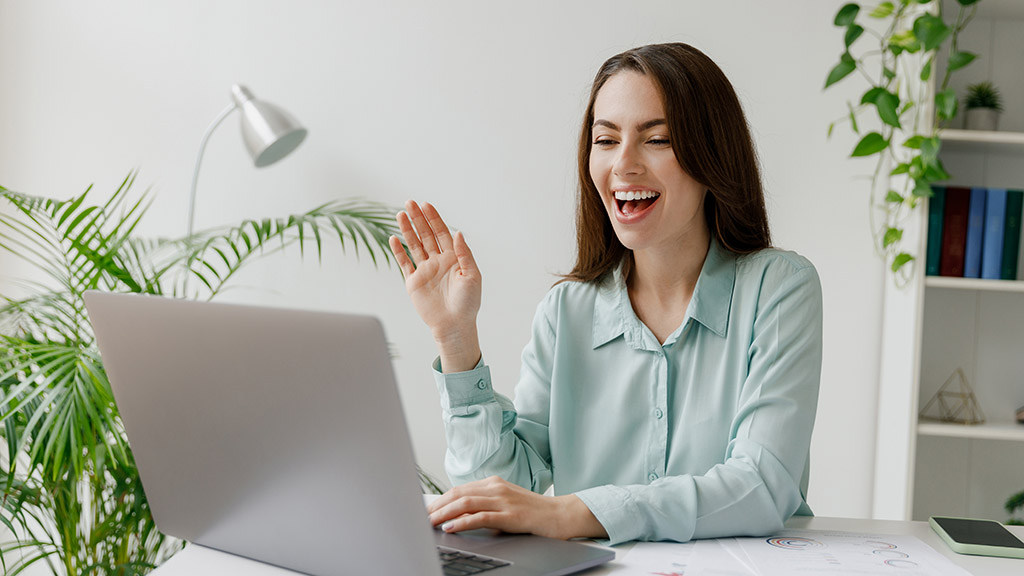 6.Review and Follow up
on ZOOM
You'll have to select it as a separate menu item,
the instructor can review your work, or checkpoints you are unclear about, depending on your needs.
This is for those who want to talk with the instructor in real-time!


It will be a good opportunity to ask questions, get feedback on your work, or get tips on how to get better!
Hi, I'm Rei Furuya, Traditional Tsumami zaiku Artist and Professor
Welcome to the delicate and beautiful world of tsumami-zaiku!
I have learned the traditional skills from Ms. Kinuyo Tomura, an Arakawa Ward-designated intangible cultural property holder. I have been teaching more than 1200 students as a certified teacher in Japan to introduce the delicate beauty of tsumami zaiku. I am also an artist, making traditional tsumami kanzashi as well as tsumami zaiku accessories that can be used in daily life. Let's have fun together!
Welcome!

I'm Tomomi Yamashita,
ITA Representative Director
I am a certified instructor in Japan and have hosted workshops for some 500 visitors from over 30 countries around the world to pass on the traditions. I also launched a portal site of tsumami zaiku to share all the information on tsumami zaiku for people to enjoy. And now, I am so excited to share "how to" and tips to make tsumami zaiku by online. Come and join us to make beautiful tsumami!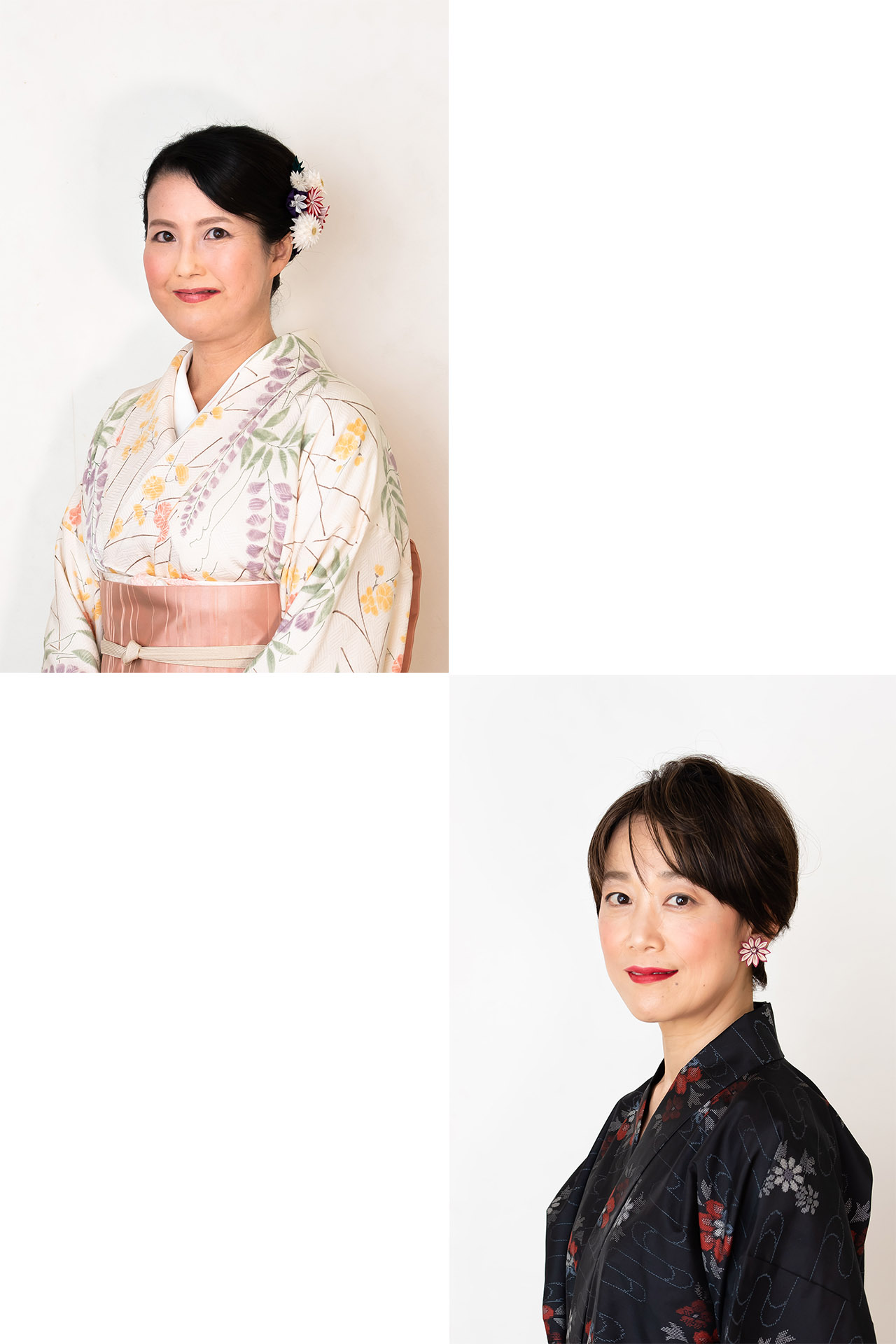 To ensure that emails from our school are delivered correctly,
Please check the below button on the sign-up screen.
" I agree to receive instructional and promotional e-mails(optional)"
1. I want to try it! But it seems difficult....
Don't worry! Even if you are a complete beginner, the curriculum is designed to help you get started right away. If you have any questions, you can always ask the instructor.
2. Isn't the price too high?
If you can speak Japanese, you can of course take lessons in Japan from a craftsman. But he/she is not an instructor and will not teach you every single step. They just briefly explain the points and let you do the rest by yourself. (This is the craftsman`s way of teaching) For 6 days, you will need a budget of about $1000. So the price of thes course are reasonable because it includes videos, textbooks, and lesson kits.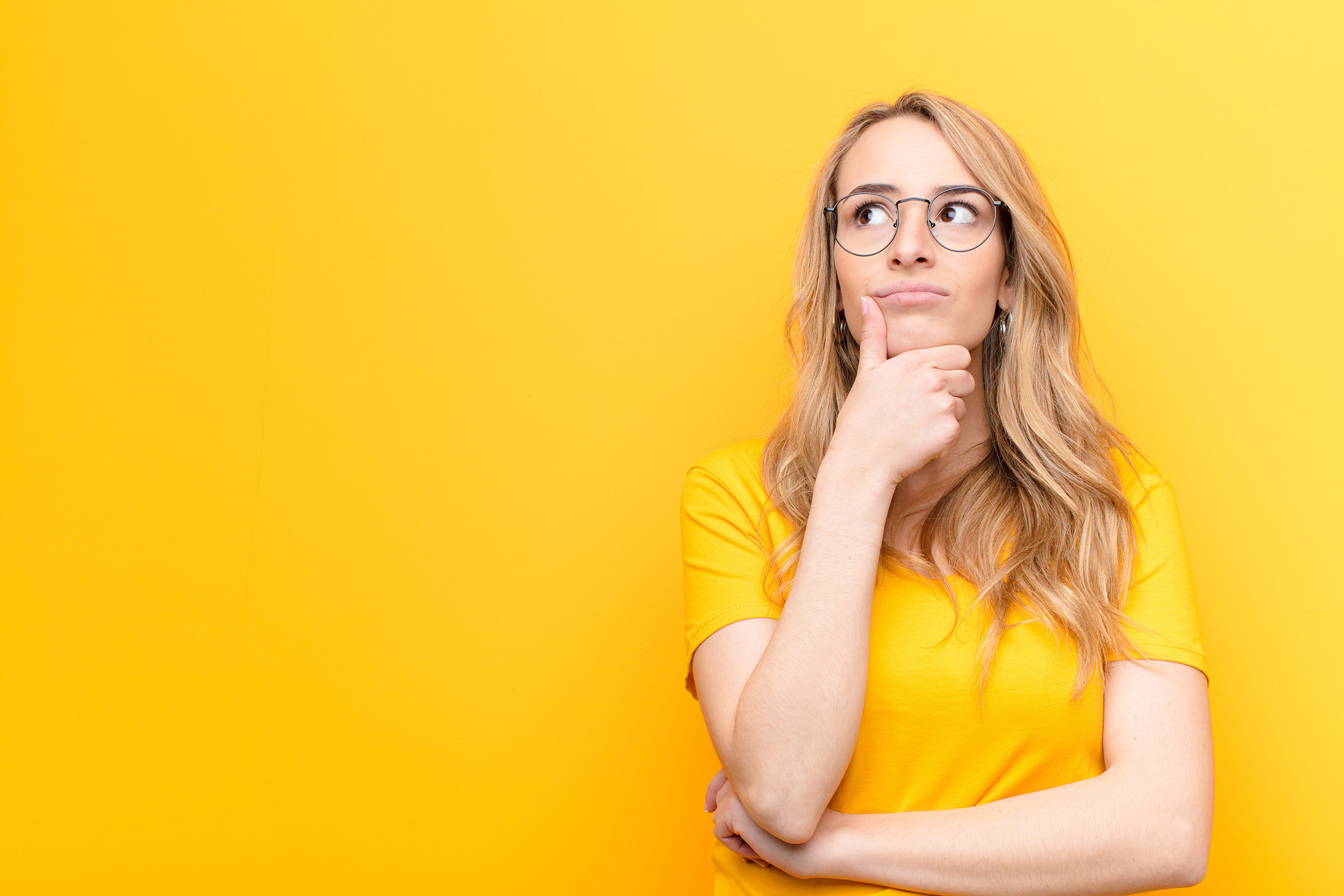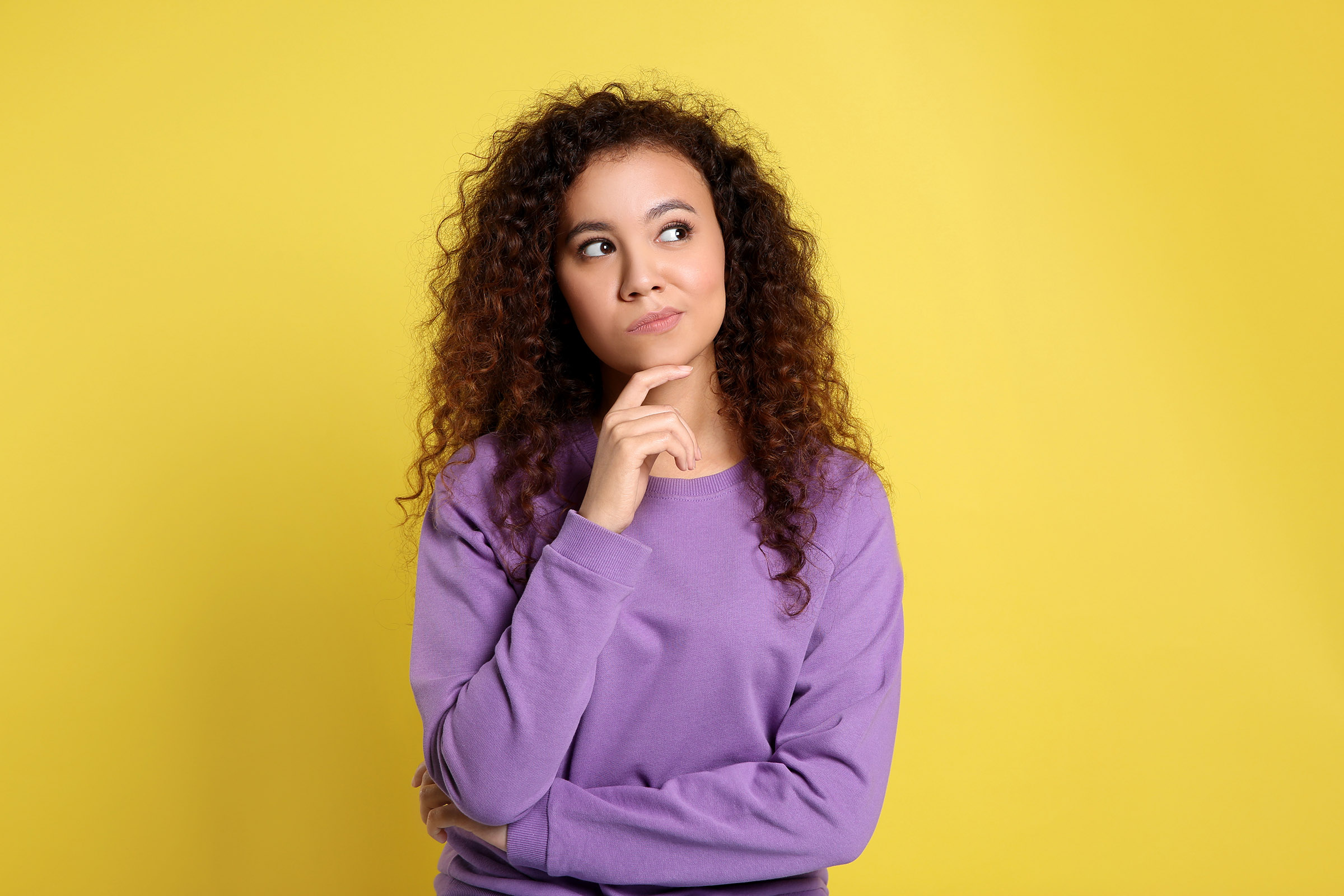 3. What are the advantages of learning by video?
Aren't face-to-face lessons better?
Face-to-face lessons are certainly fun! But if you miss the moment, it's impossible to remember it after the lesson. On the other hand, with video, you can watch the instructor's hand over and over again. The videos are designed for reviewing, so you can use them like a dictionary. You can also learn at your own pace. If you get anxious, you can ask questions to the instructor and get a review!
4. what is the traditional technique?
It is a Japanese craftsman's technique using starch glue that has been used for 200 years. You will be able to make even delicate fabrics quickly and beautifully. Our courses are designed so that anyone can learn the secret techniques in an easy-to-understand manner, satisfying both beginners and experienced students.
To ensure that emails from our school are delivered correctly,
Please check the below button on the sign-up screen.
" I agree to receive instructional and promotional e-mails(optional)"
Check your inbox to confirm your subscription